ComBioTES: storage system designed!
ComBioTES system is composed of two storages, one PCM-TES (Phase Change Material-Thermal Energy Storage) and one Versatile TES. Therefore, one of the most crucial tasks of the project is to design and manufacture them.
In the first place, CEA performed four batteries of tests in their equipped laboratory, to determine the behaviour of the PCM and the latent TES. The first batteries of tests were done to compare the real performances of the HMH's latent heat storage with the Sodium Acetate Tri-hydrate (SAT) as PCM and with the first bio-based PCM supplied by Roquette. Whereas, the following batteries of tests were performed on CEA's highly instrumented experimental TES, to learn more about the PCM behaviour, in perfectly known and controlled heat exchange conditions.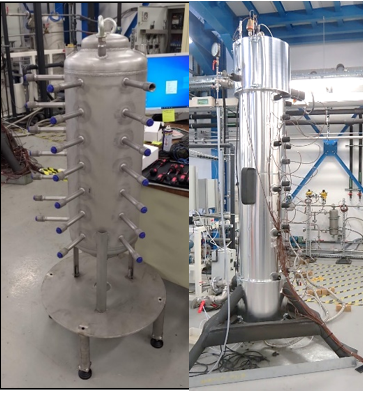 Afterwards, CEA finalized the design of the PCM-TES and Versatile TES, according to the requirements established in the first phase of the project. The PCM-TES has an optimal design and 3 backup designs, while, for the Versatile TES the design is complete, and the engineering phase has just started.
The plan for the next months is to manufacture both TES and start the testing phase in Spring 2023. There is more to come!